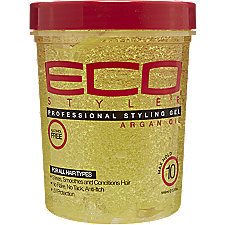 Eco Styler Moroccan Argan Oil Styling Gel is formulated with rare oils extracted from kernels of the Argan tree in Morocco. The formula conditions and revitalizes the hair while adding a brilliant shine. Moisturizes providing hydration and elasticity to hair
Ingredients: Water, Carbomer, Hydrolyzed Wheat Protein, PVP, Glycerin, Trithanolamine, Sodium Hydrxymethylglycnate, Plysorbate 20, Tetrasodim EDTA, Argan oil, Fragrance, Yellow #11,


Consistency: Thick gel


Price: $5.49


Review: Flyaways literally must of flown away, because I surely haven't seen them, since trying this product! <--corny but its the truth, this lays them down on her hair so nicely. It comes in a Huge jar, it will most likely last a year or two. I only use a small amount on her styles, I rub a quarter sized amount on her hair, then I brush it. The results are a nice, sleek, hair style. I also have been applying to her hair in sections before I cornbraid it. I noticed that her cornrolls don't look so frizzy and old. Before, her cornbraids would look old within 3-4 days. But now, her cornbraids last up to 9 days. This is a big deal for us, I'm sure they could last longer, but I like to wash her hair weekly. The one thing I do not like is, if you apply too much, it leaves a white residue. But a damp washcloth gets rid of the white residue. Overall I like this gel, and it's a plus that it's alot healthier than typical hair gels/jams. This gel is a keeper!