Do you remember the post awhile ago
(The Virtual Playdate Update)
In the post I mentioned how I had a "surprise."
Well here it is..."I gave N a trim!!
It may not be a big deal, but to me it is, I STINK at cutting!
I used to cut my Barbies hair and let's just say....she ended up looking like this..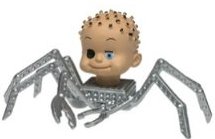 Okay, minus the spider legs thingy going on..but you got the point!
But N's hair, came out great!
I banded her hair for two days.
Here is a picture of her hair stretched out
Here is another one, as you can see it is lower back length.
I unraveled the banded hair, and applied some moisturizer.
I combed her hair all the way down, and gripped with my two fingers her hair into place.
I didn't take alot of hair off, and I didn't try to make her hair even. I simply wanted to remove her jagged ends.
(Ignore her silly face lol)
This is after we were finished.
This was N's first time getting a trim.
Has your child received a trim/cut? If so, how did the process go? and did you do it yourself?